Rebecca Higgs
Jump to navigation
Jump to search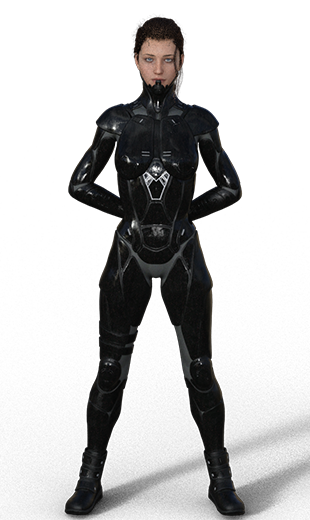 Age: 19
Race: German-American
Weight: 110 lbs
Height: 5′5″
Background: Westside slums, Ikaanos
Location: Kymanto Hall in Hamilton Square
Price: $1,200
Rebecca was brought up on the streets by her older brothers and joined a gang at age 13. Over several years, she emerged as a feared leader of the crew, along with her older boyfriend, Michael Haze. Together, they held this party of brigands together for more than three years while conducting a series of increasing brazen raids against wealthy and powerful interests in the city. The gang had as many as 20 members when it launched an ill-fated attack on a Kymanto slave transport. Rebecca, along with the other surviving members of her crew, were sentenced to a lifetime of slavery for their crimes.
A tough "gutter girl," Rebecca has no intention of serving her new Master as a meek slave. Headstrong and defiant, she has a distinctly unpleasant personality that will test the commitment and skills of even the most professional slave trainer.
Rebecca possesses a special ability that will help manage the main character's investments. She increases passive income by 50% to 75% depending on what specific investments are made.
Back to : Kymanto Slaves